Norvic bags 'The Peak of Success Award'
---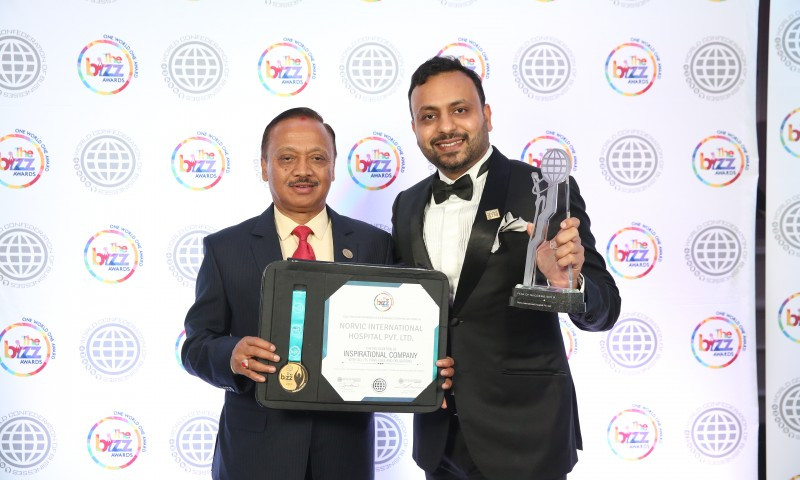 Kathmandu, December 9
Norvic International Hospital received the 2019 Peak of Service Award for business excellence from World Confederation of Businesses (WORLDCOB) during the BIZZ Awards AMEA in Kuala Lumpur, Malaysia. NIH has also been awarded the Platinum Member of the WORLDCOB family.
The award was handed over by Mr. Uday Raj Pandey, Nepalese Ambassador to Malaysia, in a function held in Kuala Lumpur. Norvic has also been recognized as the most inspirational company and was awarded as the World Business Leader during the event.
The award is offered to winning companies of the previous edition who remained at the peak of success.
Norvic's Managing Director, Megha Chaudhary was awarded as the World Leader Business Person for being a successful leader working in an innovative, knowledgeable and systematic manner for uplifting Nepal's health care domain. The Executive Director of NIH, Rajendra B. Singh was also awarded with the recognition of Excellence in Business Leadership amongst other official representing NIH, according to the hospital.
Founded in 2004 in Texas, USA, the WORLDCOB's primary mission is to promote business development worldwide, recognizing and boosting the growth of leading businesses and personalities in every country through the special tools and services that it offers to its members. The WORLDCOB has over 3,000 members representing over 130 countries across the globe. The award is intended to promote ethical business practices to set up an example to be followed by others both nationally and internationally.
As per the WORLDCOB communiqué, Norvic has been chosen for this prestigious recognition for consistently exceeding the evaluation criteria set in their business excellence questionnaire such as business leadership, quality of services, quality management system, innovation and creativity, corporate social responsibility (CSRs), rich history, practices of good medical ethics, patient safety and infection control mechanism and the excellent results achieved in the field of preventive, diagnostics, therapeutic and curative medical care in Nepal, according to a press release issued by the hospital.

Last modified on 2019-12-10 10:49:11
Related Posts