SAARC leaders' video conference, setting up an emergency fund to fight COVID-19
---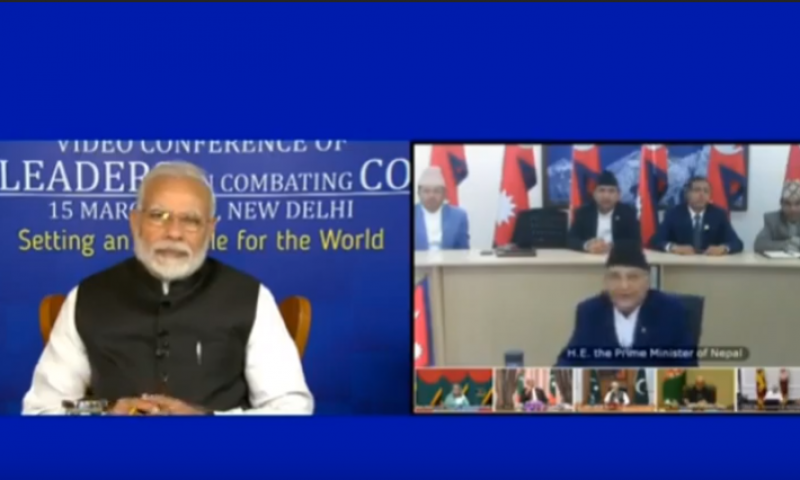 Kathmandu, March 15
Governments of SAARC countries discussed ways to contain coronavirus via video conference today. The conference was an initiative of Prime Minister of India Narendra Modi. The SAARC leaders said that member nations must combat the disease together.
In his opening adress Modi had highlighted that the "prepare but do not panic" had been India's guiding mantra in dealing with the outbreak. Starting the video conference Indian PM Modi said that his government had rescued 1,400 citizens from various coronavirus affected countries and said that maximum actions are being taken to combat the spread.
PM Modi also proposed setting up a COVID-19 emergency fund, with India committing $10 million initially for it.
Prime Minister KP Sharma Oli thanked Narendra Modi for this timely intervention in combating the spread of disease in the region. "We need to focus on awareness and joint efforts to combat this virus. Volunteers need to be mobilized," PM Oli suggested.
"Looking ahead, we could create a common research platform, to coordinate research on controlling epidemic diseases within our South Asian region. The Indian Council of Medical Research can offer help coordinating such an exercise," said Indian Prime Minister.
Apart from Oli and Modi, Sri Lankan President Gotabaya Rajapaksa, Maldivian President Ibrahim Mohamed Solih, Bhutanese premier Lotay Tshering, Bangladeshi Prime Minister Sheikh Hasina, Afghan President Ashraf Ghani and Special Assistant to Pakistani Prime Minister on Health Zafar Mirza participated in the video conference.
Among the eight SAARC nations, Nepal and Bhutan have reported one each case, India (107) Pakistan (20), Maldives (8), Afghanistan (7), Bangladesh (3), and Sri Lanka (2) cases.
Last modified on 2020-03-16 10:40:30
Related Posts